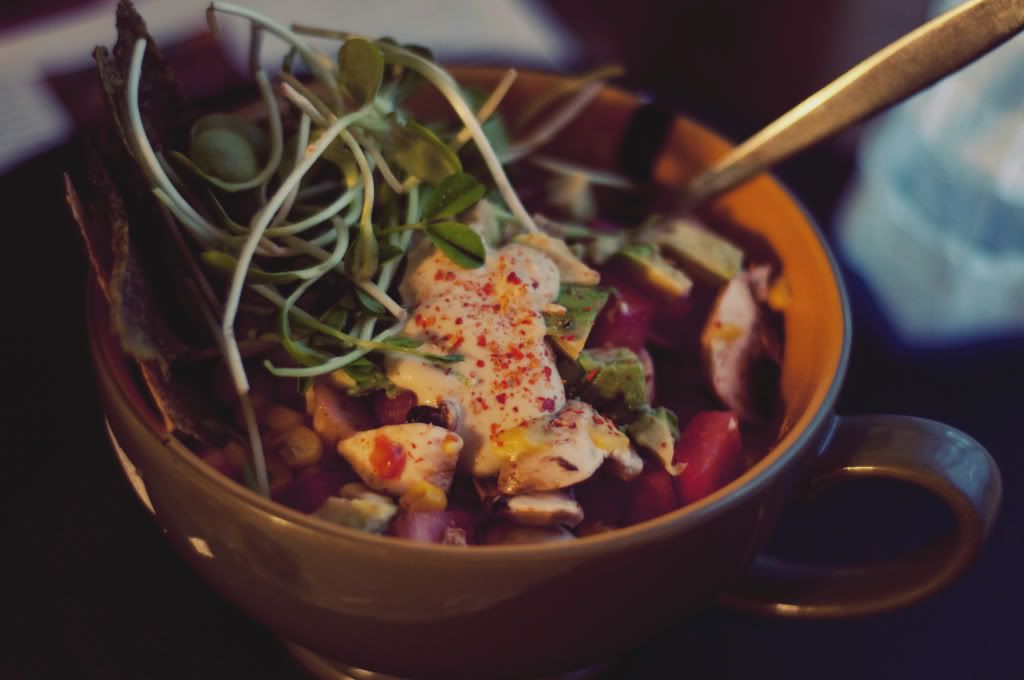 I made some Butternut Squash Soup yesterday, but it felt like it needed something else. It was tasting a little too squash-y, for lack of a better adjective. I decided putting it in a blender again with an avocado and some ginger was what it was missing, so that's what I did(and warmed it up while I was at it). Since I am a ginger whore I added a lot, but if you don't like it you could use less. Fresh herbs would be good as well. Then chopped up some corn, tomatoes, celery, and mushrooms, tossed them with lemon juice and olive oil and put them in the dehydrator for about 20 mins. Consumed the whole thing with some kale chips, and it was pretty tasty. Trying out raw soups has been a slow process for me, I find they just taste a bit weird most of the time, or they have so much oil involved that my mouth feels greasy after eating them. This one made me happy though.
You could serve it without the veggies as well as an appetizer.
Butternut Squash Soup
3 cups Butternut Squash, peeled and cubed(about half of 1 large)
1 1/2 cups water
1 avocado
1/8 tsp each of dried garlic, onion, smoked paprika, cumin, oregano, cayenne pepper(or to taste)
1/4 cup agave syrup
juice from 1 lemon
Knob of ginger, minced if you're not using a high speed blender
Salt to taste
Blend all in a blender until warm
(This part makes enough for 1 bowl)
1 tblspn olive oil
juice from half a lemon
pinch of salt and pepper
1 tomato, chopped
1/4 cup corn
3 mushrooms, chopped
1 stalk of celery, chopped
half an avocado, cubed
sprouts
Toss corn, tomato, and mushrooms with olive oil, lemon S&P, dehydrate at 120 for 20 mins or until warm and slightly softened.
Pour soup in bowls, top with veggies.