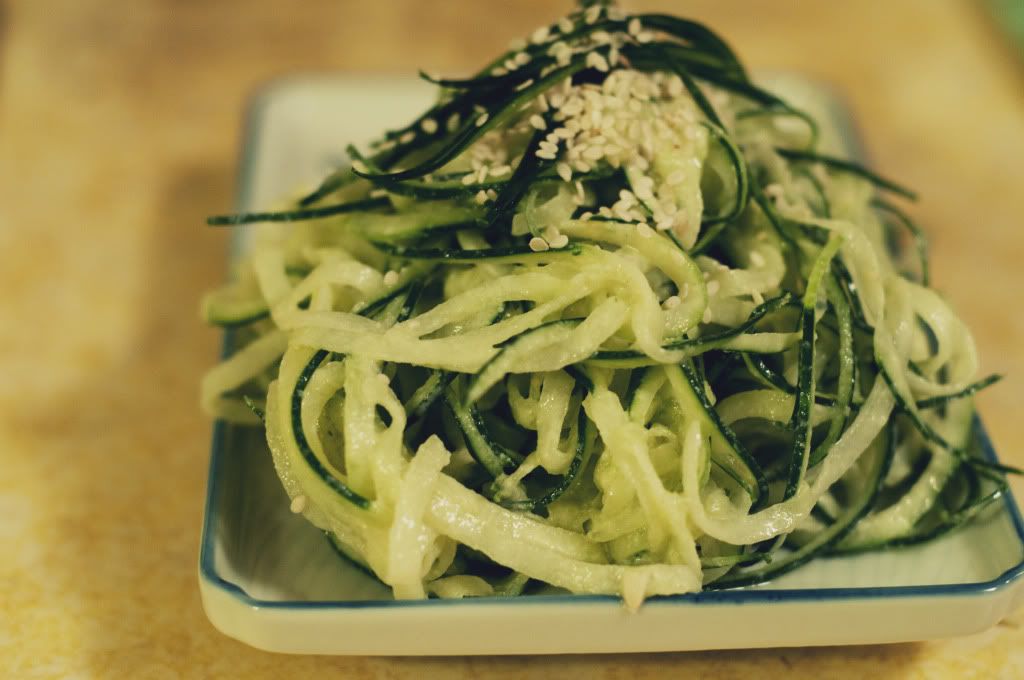 Continuing along in the vein of delicious food that is ridiculously easy is the Tahini Cucumber Salad. Tahini is one of my favorite seed spreads, so it's usually always in my fridge in copious amounts. The dressing I made for this salad was from some hummus I had, mixed with water to thin and lemon juice(also a favorite). I was a bit lazy with this salad and used only cucumber, but any variety of julienned vegetables could be good in here. Some parsley would be nice too. This Hummus is from Rawvolution by Matt Amsden, which is a great cook book full of really simple recipes. I've been searching for dips/spreads that are lighter on nuts than usual, and this one is perfect in my opinion.
Hummus:
2 (small-med) zucchini(peel if you don't want green hummus)
3/4 cup tahini
4 cloves of garlic(or less or more)
1 tsp. salt
1 tsp. cumin
Whirl all in a blender until smooth.
To make into dressing: Mix 1/4 cup hummus with 1/8 cup water, and juice from half a lemon.