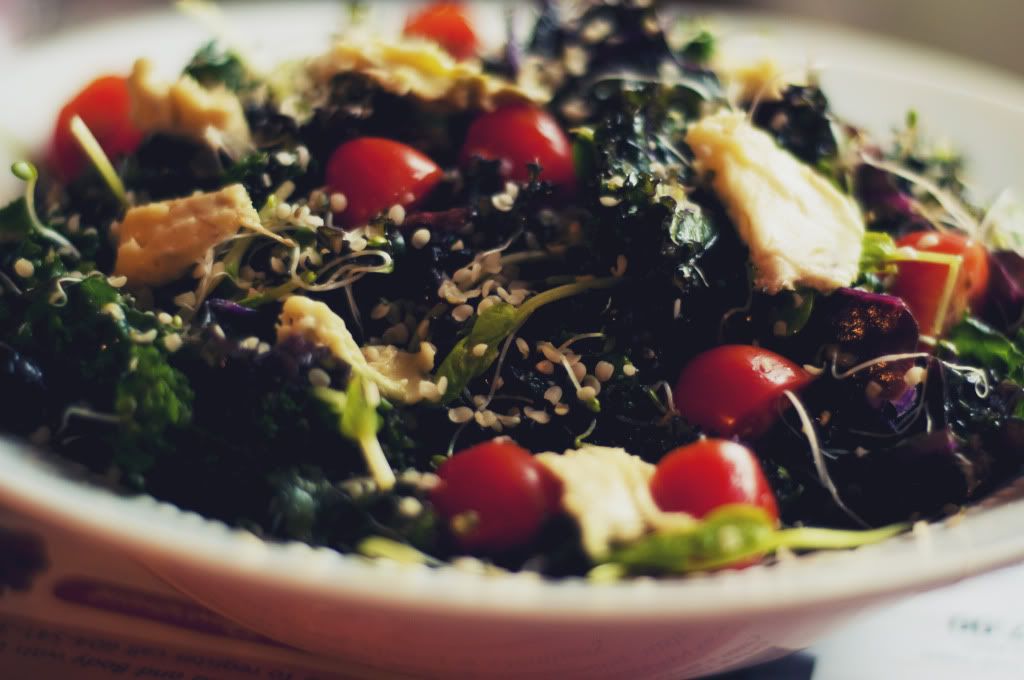 Kale is an amazingly nutritional vegetable. It's actually a type of cabbage, and is loaded with fiber, vitamin A, vitamin C, and a plethora of vitamin K. It's full of phytonutrients, and produces sulforaphane which a natural cancer fighter. It helps protect your eyes from cataracts, and ultraviolet light. Despite all these wonderful things I've always had kind of a hard time eating it on it's own. I love it as chips, in smoothies, juiced, ect. But eating on it's own was just something that hasn't really appealed to me. Too green, funny texture, hard to chew, whatever. Leftover fear from my childhood aversion to vegetables perhaps. I kept reading about other blogger's love of 'massaged' kale salad(describing it that way is just kind of creepy for me. Even if it's true, I don't know if I like my food to be massaged. I rather have a massage myself.), so I figured I'd try it out. I made a dressing with lemon and macadamia nut oil(One of my faves!), salt, agave and a touch of garlic. I performed the prerequisite massaging, and it wilted down nicely. Then tossed with cherry tomatoes, avocado, hemp seeds, sprouts and cucumbers. And I actually liked it. A ton. As in I could have eaten 4 more bowls of it. Amazing what a little massaging can do. Kale, I am no longer afraid of you. This is definitely something I'm going to try again!
Marinated Kale Salad:
Dressing
Juice from 1 lemon
1 clove of garlic, minced
1/2 tsp salt
2 tablespoons macadamia nut oil(or any oil)
pepper
Mix all ingredients in a bowl.
1 bunch Kale, ripped into bite sized pieces
1/2 cup cherry tomatoes
1/2 avocado, chopped,
1/4 cup hemp seeds
handful of sprouts
1/2 cup chopped cucumber
Pour dressing over kale and massage until it begins to look wilted, toss all other vegetables in bowl together.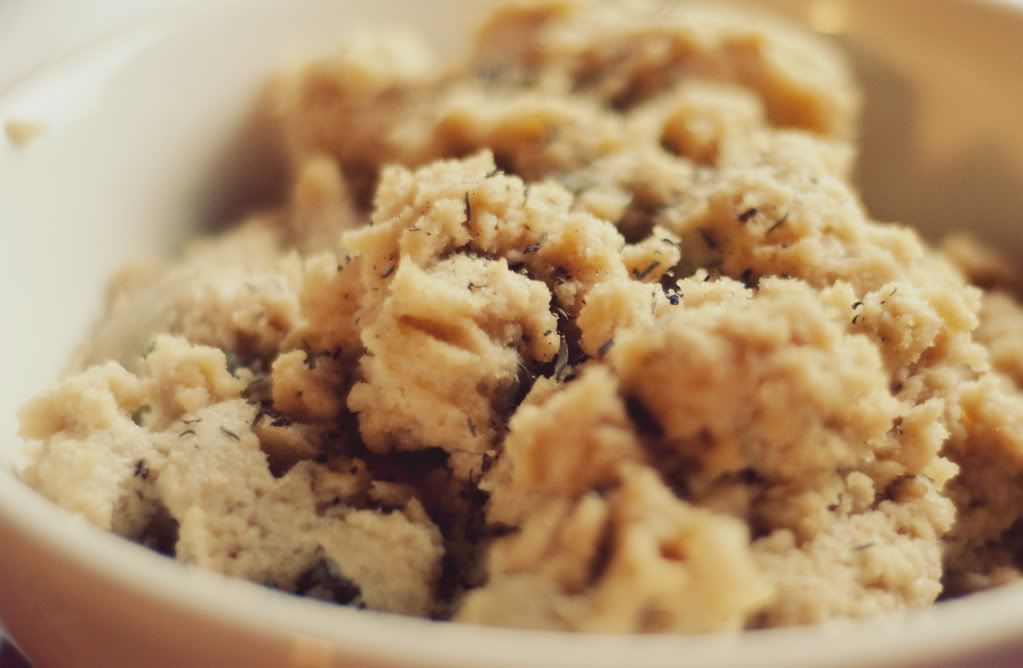 Served the Kale salad alongside some 'mashed potatoes', which were actually marinated cauliflower dehydrated, then run through a food processor.