Sometimes raw food preparation can be rather lenghty, or have recipes that contain numerous parts and a couple days of preparation. While I adore recipes like this, (I like spending as much time in the kitchen making things as much as I do eating them). But sometimes, simplicity triumphs and you end up with something wonderful. Some days I feel rather lazy, and a big ass green salad isn't what I'm in the mood for(although I do love them). Today(and yesterday) were both days like that. I was working on making some scallion pancakes with eggplant and pepper filling, and it was taking awhile in the dehydrator. Yesterday's dinner was just a plain salad, but dessert was something slightly magical. The idea for the pineapple carpaccio came from Raw Food Real World, I threw on some agave syrup and banana ice cream, and it was the most exciting thing I've eaten in awhile. So simple, yet so delicious.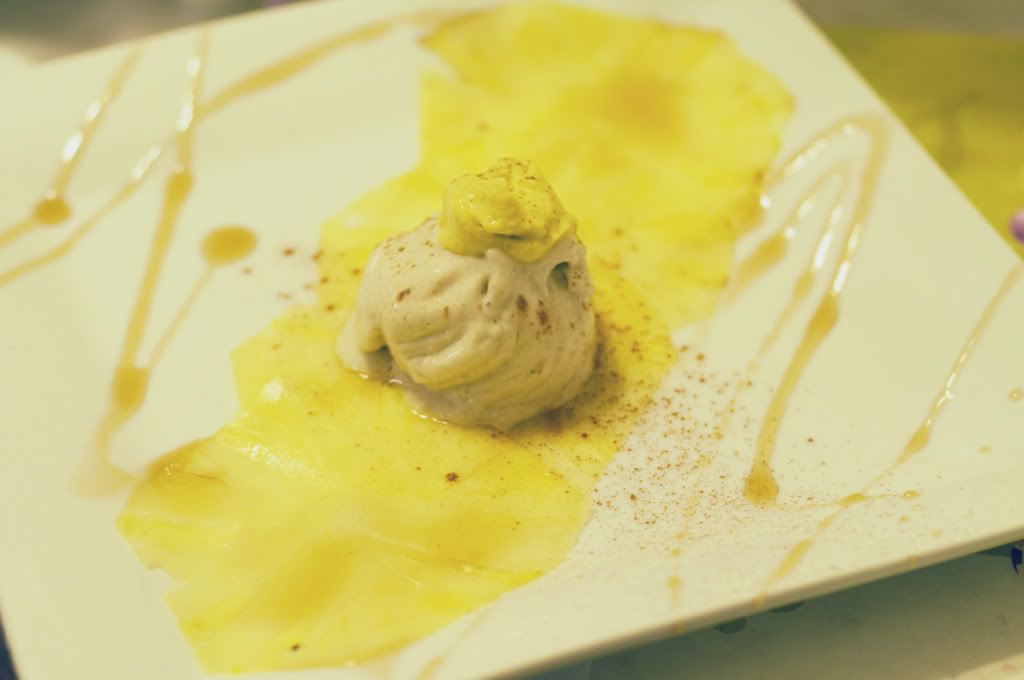 Pineapple Carpaccio with Banana Ice Cream
1 pineapple
Slice a pineapple on the thinnest setting on a mandoline, or with a knife. Place onto plates, and drizzle with agave syrup.
Banana Ice Cream
Freeze 2-3 bananas cut into chunks, then whirl in a food processor until creamy. Scoop onto pineapple slices, top with cinnamon.