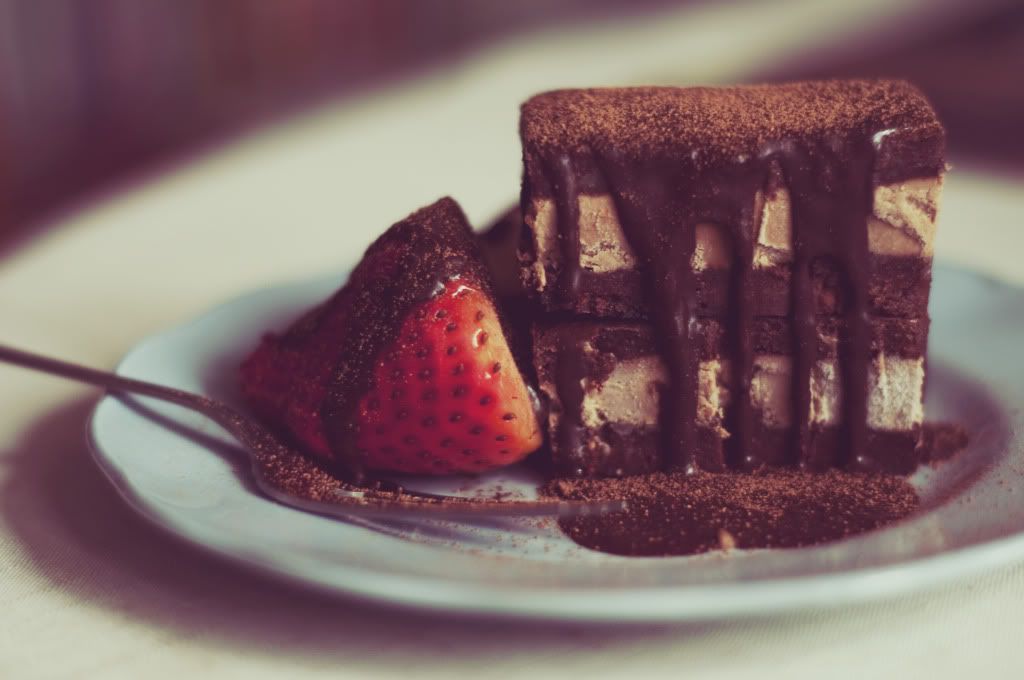 When getting into raw food there's sometimes the idea that it has to be 'all or nothing'(it definitely was for me), and if you ate cooked food it was the end of the world, you were off the wagon. This definitely isn't true, and while it's a nice ideal it may not be practical for everyone. Eating a raw diet(diet in the sense of the word meaning the food you eat, not a way of restricting your food intake), takes a bit of forethought and preparation, but it doesn't mean you need to spend hours in the kitchen (unless that's what you like to do). Some foods, such a guacamole, gazpacho, most salads, and smoothies are already (mostly) raw. With a plant based lifestyle, it can be better to add than try to take everything out of your diet. Adding more greens and fruit to your diet instead of focusing on only what you can't eat can help that transition.
When I first went raw I pretty much decided overnight, which isn't really the optimal way of doing it. I was trying to make the most complicated recipes I could find, and getting frustrated when they wouldn't work how I expected. And whenever I'd sneak a piece of cooked food I'd feel incredibly guilty. The point of a raw diet isn't to make you feel guilty or inadequate, and it's not all or nothing. If you're eating well 90% of the time, and you decide you want something cooked it's not the end of the world. As soon as I gave myself that option, the temptation kind of went away. I don't eat 100% raw, but I try for most of the time. I always eat vegan, however, that's one thing I'm not willing to compromise on. I've found that the more raw I eat though, the less I really want to eat most conventional cooked foods.
For most cooked foods that I thought I would miss, there's a raw counterpart that I generally enjoy more now. For ice cream there's the
Banana Sorbet
. For pasta there's zucchini noodles, for chocolate/cake there's tons of recipes out there that are just as good(if not better, in my opinion) of their conventional counterparts. Things don't necessarily need to be eaten cold all the time, the dehydrator is great for warming dishes up, and 'cooking' veggies. Soups and sauces can be warmed by blending them for awhile in a blender, or on the stove top in a pot over low heat and using your finger as a thermometer.
Milk Chocolate Mousse Cake
This is from my favorite restaurant,
Pure Food and Wine
in New York City. Their cookbook was the first raw cookbook I ever bought(was totally seduced by the beautiful blonde on the cover, Sarma Melngailis), and I usually need to visit the restaurant 2-3 times every time I'm in NYC. Every time I go I'm completely blown away by the quality and presentation. A lot of raw restaurants can be a little crunchy, and to be honest, a little weird if you don't know what you're getting yourself into. At Pure Food and Wine I feel like I could bring anyone there and they wouldn't be intimidated or feel out of place, it's beautiful, sexy and cozy, and I could probably eat the entire menu 5 times over.
Chocolate Cake:
2 cups walnut pieces, soaked 2 hours or more
1 1/2 cups maple syrup
1 cup water
2 cups sifted cacao powder
3 cups almond flour
1 tsp. sea salt
1 tsp. vanilla extract
Blend walnuts, maple syrup, water, vanilla in a high speed blender til completely smooth.
In a bowl mix together almonds, cacao powder and salt, stir in walnut mixture until there's no lumps.
Transfer batter to a parchment lined sheet pan and dehydrate for 24 hours.
Milk Chocolate Mousse
2 cups cashews, soaked 4 hours or more
1 cup young coconut meat(you can substitute dried here if you don't have any coconuts, just use about 3/4 of a cup instead)
1/4 cup cacao powder
2 1/2 tsps. Vanilla extract
pinch of sea salt
1 cup agave nectar
1 3/4 cups water
1 1/2 cups coconut butter liquified
In a high speed blender blend all ingredients except coconut butter until smooth, with blender running slowly drizzle in coconut butter. Continue blending until incorporated. Transfer to a container in fridge to set.
Assembly:
Cut the cake crosswise into three equal pieces. (This can be easier if you pop the cake into the freezer for about 30 mins)
Flip cake onto a parchment lined cutting surface, peel away parchment.
Spoon 1/2 mousse onto one piece of cake, carefully place second layer on top of mousse and press down gently. Repeat with remaining mousse and cake.
Place in freezer to set for about an hour.
On my birthday I made frosting for this out of chocolate pudding. I used to hate avocados, but I adore them now and people most likely won't believe you if you tell them they're in here.
Chocolate Pudding:
2 Avocados
1/4 cup cacao powder
1/2 cup agave syrup
1/4 cup water
1 tablespoon melted coconut butter(not essential, but it helps it to firm up when chilled)
Place all ingredients into a food processor except for coconut butter, blend until smooth. You'll probably need to scrape down the sides while blending, once smooth pour in coconut butter slowly with machine on. Blend until fully mixed. If you want to use it to frost the cake, place in fridge for about half an hour to chill.